During a two month placement at Glasgow Women's Library, I was given the task of cataloguing the print collection by the late Glasgow artist, Hannah Frank. Along with these literary inspired, fantastical prints was a cardboard box of Frank's book collection, in which I searched through the books for clues of her artistic inspiration. In doing so, I learned more about Hannah Frank. Here is a selection of five of her books and the insight they give us into the life and artistic inspiration of the artist.
Rainer Maria Rilke, The Lay of Love and Death of Cornet Christopher Rilke, (1948).
This book is included not because of the book itself, but due to what fell out as I flicked through the pages. Hannah Frank was not only a fine artist, but also a keen poet; her prints were often published alongside accompanying poems with corresponding themes in the Glasgow University Magazine. Amongst poetry anthologies, I found a biography of Robert Burns in the cardboard box. When searching through The Lay of Love and Death of Cornet Christopher Rilke, an enveloped letter addressed to a friend fell from the pages, on which was a handwritten poem:
'I remember her
The bay spread out before me
And deep below the town
Where lights
Were twinkling in the night.
When the last flight of birds
Was like the sky,
I remember so well every word that you said.'
The Jerusalem Bible, New Testament.
Religion was hugely formative throughout Hannah Frank's life. As a member of the Glasgow committee of the Friends of the Hebrew University, she often donated sculptures and drawings to help in fundraising appeals. Although in Judaism the New Testament is not traditionally read, she read the Old Testament principally for its poetry, therefore we can guess that her interest in the New Testament was probably for this same reason. Drawings similar to the ones in the collection were used to illustrate newsletters of the Scottish Jewish Archive centre. Job and Purim Carnival are both notable examples from the GWL collection of her Jewish heritage influencing her work.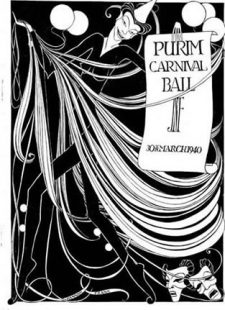 Thomas Bulfinch, The Age of Fable, (First edition 1855).
Much of Frank's work has an ethereal fantastical element, covering themes of fairies, forests, meadows, and overwhelming starry night skies – no doubt influenced by her interest in myths, legends and fables.
4. The Oxford Book of German Verse.
In addition to books written in German, Frank's collection has works in both Latin and French. These multilingual books are all highly annotated and clearly used for studying. She studied various subjects at Glasgow University, but had a particular talent for languages.
Sue Grafton, L is for Lawless, (1996).
Hannah Frank owned three of this series of crime thrillers; I is for Innocent, K is for Killer and L is for Lawless. Hannah Frank passed away in 2008 and with the publishing date at 1996, she probably read this crime thriller between the age of 88 and 100. Her keen interest in literature began in her early years, continued to be formative to her artwork, and remained with her throughout her life.