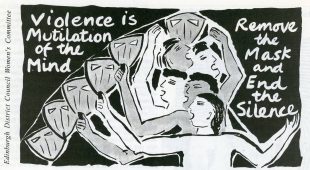 In the last blogpost, I wrote about women's movements and how we are still fighting for our rights. The tone of Harpies & Quines is one of solidarity and unity, appealing to Scottish women and feminists to stand together. For this post, I would like to give space to magazine no. 5, February/March 1993. Prominently displayed on the front cover is the logo of Zero Tolerance on a black background. Inside, Harpies is still Harpies, but focussing on violence against women. Especially highlighted are the Scottish organisations, groups and campaigns to fight this. One of these campaigns is Zero Tolerance; "It is unique for two reasons: it is the first campaign of its kind to target men as the perpetrators of the crime, as opposed to women. (Previously women have been asked to be accountable for their behaviour)." (page 1, H&Q, No. 5. February/March 1993) Not only does the Harpies editorial approach show their support – but they become a source of information and active engagement.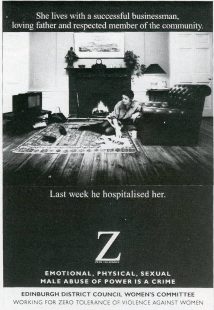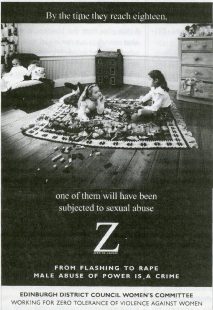 So, in the words of the team of Harpies & Quines: "Well, be warned – this is not a jolly issue. For the past four issues you have not been reading a fair representation of our mailbag. The reality is that every second envelope contains poetry, fiction, articles and press-releases about the abuse of women and children." (ibid)
What they did by highlighting violence against women (and children) was following in the footsteps of (or rather joining forces with?) many a great deal of other women's projects, organizations and groups. In the 90's there were several campaigns to end violence against women and children, showing the significance and vastness of the abuse. The 5th issue of Harpies & Quines gives that fair representation of their mailbag's contents: the short story Thicker Than Water (by Alison Kermack), infanticide in India, FGM in The Clitoris Awareness Column and most notably the interview with the well-known feminist Andrea Dworkin: it's still a feminist magazine with something for everyone, but with the overarching theme of violence against women.
Harpies covers different campaigns like Zero Tolerance by Edinburgh District Council Women's Committee, or the poster campaign in Glasgow by the Women's Support Project (made up of Rape Crisis and Women's Aid), and adds heaps of resources for women. Harpy Vendors sold the magazine individually, and so did local independent shops, even Oxfam! (Editorial, H&Q, No. 3. October/November 1992). The magazine was now available all over Scotland.
It has been interesting to me to imagine the impact this must have had on women's lives before the internet. Resources on where to find help, on books, information on feminism and activism to empower, and magazines that validated your experiences must have been thin on the ground in 1993. There is so much information and help out there today at your fingertips – something I keep forgetting. But without the collectives, without the people behind the information, this help and information might not be available today. So let's cherish the organisations, campaigns and charities that fight for our rights and give us information, and support them too.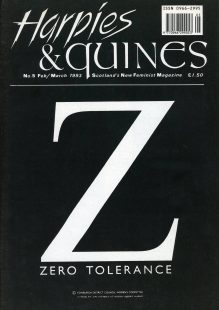 Further reading, all held by GWL:
Scottish Women's Aid. 25 years of listening to women: Women's Aid in Scotland. (1999) Scottish Women's Aid, Edinburgh.
Ward, J. and Renfrew Zero Tolerance Implementation Team. No man has the right: zero tolerance of violence against women. (1995)
Harpies & Quines Archive at GWL 
Scottish Women's Aid Archive at GWL  
Related events happening at GWL soon:
Speaking Out: Recalling Women's Aid in Scotland Exhibition in Stirling and in Inverness at Highland Archive Centre and Inverness Museum and Art Gallery.  
Speaking Out @ Dundee Women's Festival