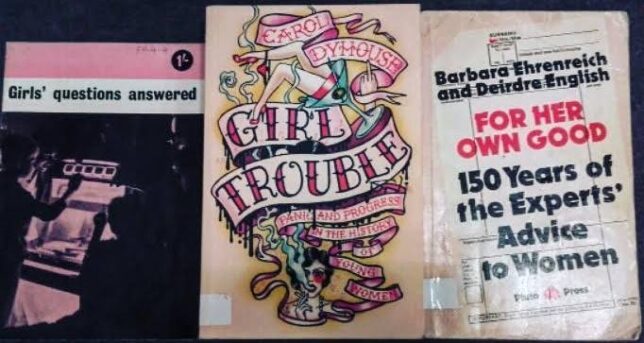 Hello!  I'm Kylie, a volunteer here at Glasgow Women's Library and also a Gender Studies MSc student who has had the wonderful opportunity to rummage around the Family Planning Archive for two months as part of a research project. My project allowed me to get up close to the material and write a subject guide for this most important (and rare) collection which contains everything from IUD medical trial reports to sex advice booklets! As part of the project I also wrote four blog posts to showcase particularly interesting items and themes of the collection. This first one discusses the 1970s advice booklet, Girls' Questions Answered. 
As a 90s girl growing up in an era where to get on the internet was to annoy every member of the household by clogging up the phone line, I frequently sought out information and guidance from girls' magazines and books about my body and sex. Although my mother was studying women's studies and was far more open than many of my friends' mothers, I still curled up with embarrassment even contemplating mentioning pubic hair to her. So it was to the magazines I went, with all kinds of questions from how to apply mascara to what an orgasm was. I remember that at thirteen I was so worried that I would never be in a relationship because I had absolutely no breasts to speak of that I consulted a women's magazine that advised me to rub coconut oil and massage my breasts for twenty minutes in a clockwise motion followed by twenty minutes in an anti-clockwise motion. I did this every night for six months. My breasts didn't grow an inch, but I did have super smooth skin.
In delving into the Family Planning Archives here at Glasgow Women's Library it has been fascinating to find examples of advice literature created for both girls and women. Many examples chime so closely with my own experience that I have often felt moved by the questions and frequently frustrated by the moral agenda of the advice offered in return. One such example is the pamphlet Girls' Questions Answered published in the 1970s by the Marriage Guidance Council that 'tries to give helpful answers to some of the questions that some girls ask' regarding the physical, psychological and social aspects of sex and relationships. It offers an intriguing insight into the types of questions asked by young women in the 1970s and covers a variety of topics from heavy petting to contraception and sex outside of marriage. One of the questions I found most interesting was: 'How can you control a boy with wandering hands?' The answer reads:
'The best thing is not to go out with him if you made it clear that you don't like that sort of thing. If you still feel you want his company better stay with the crowd and avoid being on your own with him. Remember that your attractive appearance make him think you're egging him on more than you intend to so you may have to be pretty definite in telling him to stop.'
The focus on the young girl to control both herself and the boy is still a central issue in debates about consent, even today. The implication here is that girls must be aware of the power their bodies hold over men, despite not fully understanding them yet and lacking a safe space in which to explore them.
This connection with contemporary issues regarding consent led me to wonder where young women go now for advice and information. Are there better, less agenda-laden sources now we have the internet? Or does it provide further opportunity for suspect advice and misinformation? Please do get in touch and share your stories.
If you're interested in exploring advice literature, do keep an eye out for the Tips for Girls Sessions run here at the library. They are a wonderful opportunity to rummage in the archives and discover the funny, interesting and sometimes dangerous advice given to women.