CIARA PHILLIPS INTERVIEW AT THE GLASGOW PRINT STUDIOS
by Esme Williams, one of our Young Critics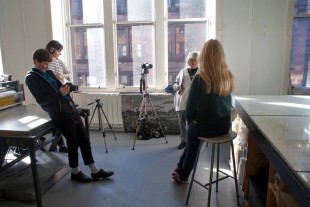 Yesterday morning we interviewed and filmed Ciara Phillips. Ciara is exhibiting her screen-print Advice-Giver at the Ripples on the Pond exhibition. The work, which was made for the Glasgow Womens' Library 21 Revolutions project, depicts a toucan saying 'Give a damn'. The phrase specifically refers to the work of artist and activist Sister Mary Corita Kent. Ciara was also informed by the poster archive at Glasgow Women's Library, in particular those created by the Guerrilla Girls, an anonymous group of women artists fighting discrimination in the arts.
I was the director for this particular film so was slightly feeling the pressure to make sure that everything went smoothly. Me, Mel and Lousina met early at the library to pick up the film and sound equipment. Lousina then drove us round to the Glasgow Print Studios at Trongate where we were filming the interview. We met the rest of the team and Ciara in the foyer and after a chat and a cup of coffee we went up to the studios.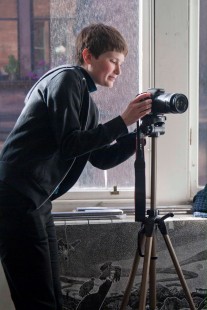 Thanks to a fantastic team performance everything went to plan. Louisina took on the role of interviewer and worked all her charm to make sure Ciara felt relaxed and happy while we filmed her answering our questions. Lucy was responsible for sound, Mel was in charge of first camera and I was in charge of second camera. Helen was making sure we were all fuelled up on tea and biscuits. Everyone involved in the project is lovely to work with and I think it really shone through yesterday just how much of a team we are.
Ciara gave us a fantastically in depth insight into her work Advice-giver. She talked about the importance of feminist artworks, her involvement with Glasgow Womens' Library for the 21 Revolutions project and gave us her perspective on the current Glasgow art scene.
It was a brilliantly sunny morning so we were able to position our interview in a lovely bright corner of the studios. We were also able to film some nice shots of Ciara working in the studio.
Last week we filmed the artist and project organiser, Helen de Main, talking about her work Ripples on the Pond. It was quite a big step up this week filming Ciara but I think everyone rose to the challenge and walked away from the print studios feeling happy and proud with what we had done. I feel like I have learnt loads this past week preparing for the interview and filming the interview itself. The whole experience has been great and I'm looking forward to filming Jackie Donachie next week.