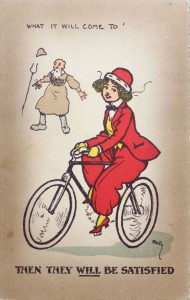 The Women's Heritage Bike Ride will launch Saturday 28th June at 2pm as part of Glasgow Cycle Festival. Beginning at Riverside Museum, the ride will take participants along the Clyde, through Glasgow Green and it will end at the Velodrome.
The bicycle has been an important fixture in women's history. The ride will stop off at Nelson's Column which was a meeting point for suffragette rallies. The bicycle enabled suffragettes to distribute leaflets and promote events, thus playing an important role in the women's suffrage movement. The route will also take cyclists to Anderston, where industries such as shipbuilding and engineering thrived. Many women were employed in these industries and cycling gave them a greater freedom and independence. It changed the way they dressed as the restrictive styles of the 19th Century weren't conducive to riding a bike.
The ride will give cyclists the chance to discover more about the women, past and present, who have made their mark on Glasgow and the importance of cycling to them. You will hear about the work of anti-nuclear protestor Margaret Harrison, who along with her husband, cycled the length of the UK to campaign for nuclear disarmament. Discover where the entertainer Annie Oakley performed, whose most famous act involved shooting clay pigeons whilst riding a bicycle, and see where female athletes will competing in the 2014 Commonwealth Games.
Cycling also plays an important role in modern day Glasgow. The route will pass a cycling training centre where Free Wheel North's classes are held; the organisation is also a partner for Glasgow Cycle Festival, and promotes physical and mental well-being through cycling. The bike ride will also take participants past the headquarters of Belles on Bikes, who organise women-only rides and bike maintenance sessions.

Join GWL for this gentle ride and discover more about these and other women and organisations that have made a difference to Glasgow and its cycling landscape. Please bring your own bike and advance booking is required; book your free place here or call us on 0141 550 2267.