As the Harpies, Fechters and Quines events launch in Edinburgh this month, Theresa Wallace, a volunteer from the Bonnie Fechters group writes about how the Extraordinary Ordinary Women exhibition was developed…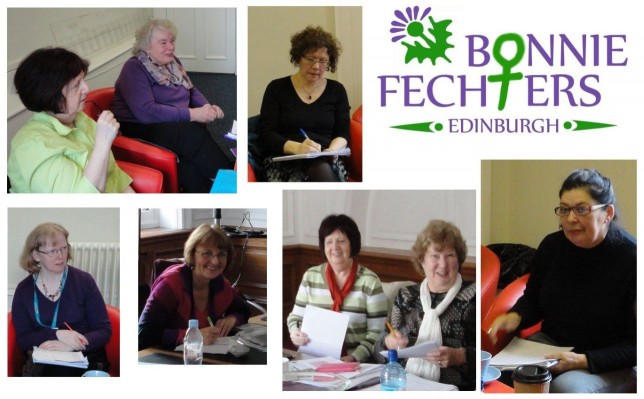 The Bonnie Fechters is a group of Edinburgh women who meet socially on a monthly basis to discuss women's issues, based on an interest in Scottish Women's History and current issues affecting women today. We do challenge's for charity on the, 'Just Giving website,' and are involved in many other Scottish initiatives.
Back in September/October 2012, the Bonnie Fechter's group met and agreed to form a library sub group of six people to work together to produce, in conjunction with Glasgow Women's Library and Edinburgh Central Library, the Extraordinary Ordinary Women Exhibition for the Harpies Fechters and Quines evenbts in the month of June 2013.
Initially the meetings were held every few weeks at the Filmhouse Cafe on Lothian Road but in October we moved to the Central Library Boardroom. Our main reference book was the Biographical Dictionary of Scottish Women but we did find other women, who'd been important figures in Edinburgh's past. Our major difficulty was the number of women we could mention. Eventually after much debate we decided to have seven categories and we would each pick five women for each category for the exhibition, which will include a short resume of their achievements and some less known facts.
The seven categories are Campaigners, Business & Industry, Land & Sea, Science & Medicine, Domestic Economy, Arts & Culture and Education.
The Music Library also became involved and some well known music/folksong collectors are exhibited within that section of the library.
In January we started regular weekly and sometimes bi-weekly meetings to finalise the programme for June, slotting into dates and spaces the film shows, talks, displays of the Scottish tapestry and workshops with the Glasgow Women's Library into the Central Library schedule to be advertised in Edinburgh Reads, the Edinburgh City Council webpage and Glasgow Women's Library What's On Information Pamphlet and webpage.
It was then we encountered our most difficult and major task, which was to obtain copyrights to the range of images and photographs we planned to use to support the words we had written.
Special thanks must be given to all who contributed to this achievement, for all the work in coordinating and obtaining all the copyrights for all the images we used and our expert on working with the illustrators within Edinburgh City Council, who created the displays within Central Library. These displays will be available in the future for the use of schools and other venues.
By May 15th all was in place, we had done it.
Now we'll start thinking about next year, 2014, the year of the Commonwealth Games in Glasgow and the referendum on Scottish Independence!
Thanks to everyone in the group for all their hard work – for more information about events in Edinburgh see our events calendar for June.