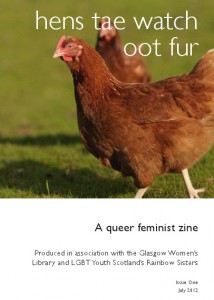 Glasgow Women's Library has been working with the Rainbow Sisters, a group run by LGBT Youth Scotland, on various projects including the fantastic zine: Hens Tae Watch Oot Fur. The first issue of the zine was released in July this year and has been selling fast. Now the group are working on the next issue of the zine which is due to be published at the begining of December. You can see some samples from the last zine by visiting the Hens' website, including some fantastic comics and articles. Here's a comment from the group about the ideas behind the zine and the contributions featured in the first issue:
"Rainbow Sisters is a youth group run by LGBT Youth Scotland that supports young lesbian, bisexual and transgender women aged 13 to 26. In creating this zine, we wanted to bring together the young women of the GWL and the Rainbow Sisters to develop a project that would give young LGBTQ women living in Glasgow (and elsewhere) a voice or space to comment on anything which they wanted to say, or thought was interesting or necessary to say. Given the nature of our group, our zine is comprised of lots of different material from personal or reflective pieces to creative, political and humorous pieces."
Copies of Issue 1 are still available. You can purchase them in person from Glasgow Women's Library or from the online shop.