If you're struggling to find the perfect summer read to take on your holidays, look no further!  Aileen reviews Fingersmith by Sarah Waters….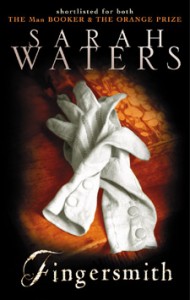 I was initially a bit daunted by the sheer size of this book, but after reading the first few pages, I found it hard to put down.
This is the story of Sue Trinder, a poor orphan growing up in the squalor of London in 1862, and Maud Lilly, another orphan growing up some miles away in the house of her wealthy uncle.  After a visit from a corrupt gentleman, Sue takes up a position as ladies maid to Maud, with a view to making her fortune from the unfortunate girl.
Gradually the girls relationship develops into an uneasy friendship.  The line between mistress and maid becomes blurred, motives are unclear, identities become confused, and their fates are inextricably linked.  We are kept guessing through all the plot twists and turns, and the real story does not become clear until the final passages.
I absolutely loved this book and was sad when it ended, it was beautifully written but easy to read as the tension is expertly built throughout the story.  This would make an excellent holiday read as the characters are believable and engaging, and the unfolding mystery is hard to resist.